Bilic, Leko braced for CSL acid test
Share - WeChat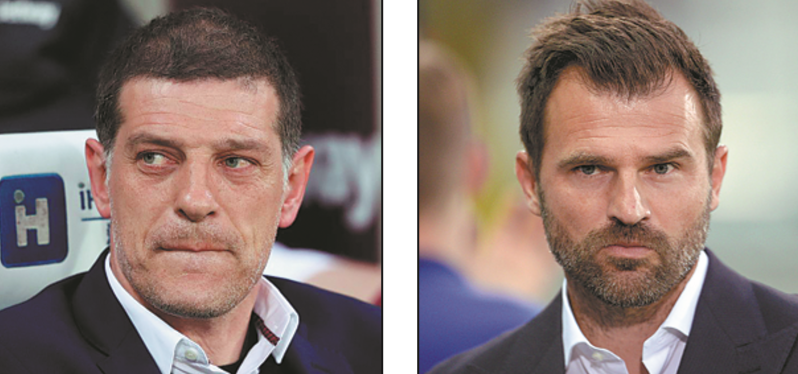 For foreign coaches boasting big reputations and impressive resumes, the Chinese Super League often proves to be a humbling experience.
Recent history provides plenty of examples of how success in Europe's top leagues often fails to translate into CSL silverware.
The latest imports looking to buck that trend are two Croatians-Slaven Bilic, who replaces Bruno Genesio at Beijing Guo'an, and Ivan Leko, who succeeds Vitor Pereira at Shanghai SIPG.
First and foremost, both are tasked with restoring domestic glory to their new teams, who last season watched enviously as Jiangsu FC (then called Jiangsu Suning) smashed perennial champion Guangzhou FC's (formerly Guangzhou Evergrande) dominance to lift the title.
With the clock ticking on a reported March kickoff date for the 2021 season, both Bilic and Leko will have to hit the ground running.
According to reports, Leko has arrived in Shanghai and began his medical quarantine early this month.
The 42-year-old-a league-title winner with Club Brugge in 2018 and who arrives at SIPG from another Belgian club, Royal Antwerp-will then travel to Haikou, Hainan province, to oversee warm-weather training with his new charges.
"Our preparations start as early as January 25th, and after I come to China, I have two weeks of isolation waiting for me," Leko told media."The league starts in early March. I've already turned my focus to Shanghai and can't wait to meet the club and the team, and go for new challenges and victories."
Former West Ham United boss Bilic, on the other hand, has yet to arrive in China, with Guo'an still arranging his trip.
The 52-year-old-a key member of the Croatia squad that finished third at the 1998 World Cup-looks certain to miss the early stages of Guo'an's preseason training, and will likely only link up with the squad in February after completing his quarantine.
"It feels good. It's happened quickly, to have another job it feels exciting. Now I have to pack things and all that, which is not the best part, but I'm glad," said Bilic, who was fired by West Bromwich Albion in December and is tasked with leading Guo'an to its first CSL title since 2009. "It's what I wanted and I'm looking forward to a big challenge."
That challenge is made more daunting amid the changes to the season necessitated by the COVID-19 pandemic.
Bubble trouble?
The CSL is expected to stick with last season's model, when the league was split into two groups for a tournament-style competition-instead of the regular 菜鳥自提點香港地址-and-away format-at bio-secure bubbles in Dalian and Suzhou. The host cities for this season's bubbles are yet to be announced, although it is understood Guangzhou and Shanghai are both possibilities.
As part of extensive epidemic-prevention regulations, coaches and players were required to stay in the lockdown areas, with no interaction with the outside world allowed. With the coronavirus still a threat, the Chinese Football Association has indicated that the same caution will be exercised for the forthcoming campaign.
Dalian Pro head coach Rafa Benitez admitted he found it difficult to maintain his players' morale during the long lockdown, so Bilic and Leko's man-management skills are set for a tough test.
The Croatians' jobs have been made even more difficult by further reductions in the league's salary cap.
The new limits, which were introduced by the CFA in December, have already resulted in the exit of several foreign stars, including Brazilian forward Hulk, from SIPG.
Domestic players' salaries in the CSL is capped at 5 million yuan ($760,000) before tax, while foreign players' wages is capped at 3 million euros ($3.3 million) before tax.
With big-name arrivals unlikely, getting the best out of their current rosters will be key for Bilic and Leko- although the latter insists he is already more than happy with his player options at SIPG.
"It's a club that's about 10 years old, but very ambitious and complex," Leko said of his new team, which won its sole CSL title in 2018."The conditions the team has to work under are truly incredible.
"You know that China, at least for this year, has imposed financial restrictions on bringing in players, but we will be left with Oscar, Ricardo Lopes and (Marko) Arnautovic on the team. Shanghai also has very good Chinese players.
"In general, it is a team that has great potential and it's a wonderful challenge to work with. Of course I can't say anything more specific now, but anyone who knows me knows that my demands and goals are always very high. And so are Shanghai's."
With renewed focus on the merits or otherwise of foreign coaches and players for the Chinese game, the pressure from fans and media is increasingly intense.
Former China and Manchester City star this week pulled no punches in his assessment of the overseas influx.
"I believe the foreign coaches who come to China have one basic purpose- to earn a higher salary. Otherwise, why would they come? They just simply want to help China level up its soccer strength? That doesn't make any sense," Sun said in a TV interview.
"Matches are like mirrors for both players and coaches. In many CSL matches now, teams just rely on foreign players to attack.
"And the foreign players don't even run back to defend. It's a way to win, but it should not be a trend. It will only make Chinese soccer worse."